Hotel Ristorante Leon d'Oro
Hotel Ristorante Leon d'Oro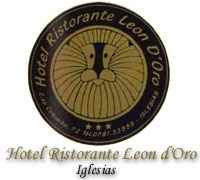 BOOKING FORM - RICHIESTA PRENOTAZIONE

---
HOTEL RISTORANTE LEON D'ORO
Ubicazione: L'Hotel Ristorante LEON D'ORO è situato nella zona commerciale di Iglesias, città ricca di antiche tradizioni a vocazione mineraria.

Situato in una posizione tranquilla, si trovano adiacenti all'hotel uffici postali, banche, centri commerciali e il centro storico, per favorire anche una divertente attività di shopping.

L'Hotel è di recente costruzione ed i suoi ambienti sono stati studiati per offrire il miglior comfort, adatto sia ad una clientela commerciale che turistica.

Le Camere: L'Hotel, completamente climatizzato, è aperto tutto l'anno e dispone di 24 Camere di cui 4 singole, tutte dotate di telefono diretto, tv color e frigo bar.
Tutte le camere inoltre sono provviste di bagno privato con doccia.

Come Raggiungerci: All'Hotel Ristorante Leon D'Oro, si arriva per via mare a Cagliari, Olbia e Porto Torres da Genova, Livorno e Palermo e per via aerea a Cagliari, da tutti gli aeroporti nazionali.
La comoda S.S.130 collega la città di Iglesias al capoluogo isolano, raggiungibile in meno di 50 minuti.

Il Ristorante: L'elegante ristorante, offre una cucina tradizionale e mediterranea, in grado di soddisfare anche i palati più esigenti.

Altri Servizi: L'american bar, la terrazza, sono un angolo ideale per un drink o una serata in pieno relax.
---
Dove siamo:


---
LEON D'ORO HOTEL RESTAURANT
Location: The LEON D'ORO Restaurant Hotel is located in the business district of Iglesias, a mining town rich in time-honoured traditions.

The hotel is situated in a quiet position and adjacent to it you will find post offices, banks, shopping malls and the town's historical centre where shopping is a pleasure.

The Rooms: Of recent construction, its rooms have been designed to give the maximum in comfort both for those travelling on business and for pleasure.
The Hotel, which is completely air-conditioned, is open all year round, with twenty-four rooms, four of which single, all of which with direct telephone service, colour TV and mini-bar.
All rooms have private baths with shower.

How to reach us: The Leon D'Oro Restaurant Hotel is less than a fifty minute drive along the modern freeway National Route 130, from Cagliari, Sardinia's capital, where there are ferry connections to Civitavecchia, Genoa and Palermo on mainland Italy and an airport where flights arrive from all over Italy.
Other points of arrival are Olbia and Portotorres.

Other Services: A guarded garage, a billiard room and rooms for meetings and receptions are among the other services that the Hotel offers.

Excursions: It also organizes boat trips to the islands of Sant'Antioco and Carloforte with departures from Funtanamare at Buggerru and Caladomestica, rightly considered among the most spectacular of Italy's coasts, with the enormous limestone stacks of Pan di Zucchero. One of these, which rises to a height of 132 metres, is classified as a national monument. There are also excursions to the Punic-Roman temple of Antas, to the Su Mannau caves at Fluminimaggiore and to the Monte Sirai Phoenician-Punic fortress at Carbonia.

The Restaurant: The elegant RESTAURANT offers traditional and Mediterranean cuisine, capable of satifying the most refined tastes.

The American Bar: The American Bar and the terrace are ideal places to enjoy a drink or spend an evening in a relaxed atmosphere.
---
Where we are:

Hotel Ristorante Leon d'Oro
Corso Colombo, 72, Iglesias, CA, Italy