Grand Hotel Villa Politi
Grand Hotel Villa Politi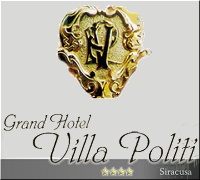 BOOKING FORM - RICHIESTA PRENOTAZIONE

---
GRAND HOTEL VILLA POLITI



Nell'incomparabile scenario delle Latomie dei Cappuccini arroccata al centro d'uno spettacolare anfiteatro naturale nasce: il Grand Hotel Villa Politi.

E' un albergo unico al mondo perché unica è la millenaria balza su cui sorge.

L'albergo si snoda, con rientranze e sporgenze dei suoi vari corpi, su tre piani mansarde comprese con magici oblò su di un panorama da fiaba mediterranea.

Dal monumentale cancello in ferro battuto, attraverso il folto parco, alla facciata con l'ampio scalone elicoidale assediato dalle bouganvillee, al colonnato monumentale del portico, al caratteristico bow-window della costruzione dell'epoca, si accede alla sontuosa hall, le cui pareti sono rivestite in legno pregiato. Marmi lucenti e specchiere enormi rifrangono le luci e vetrate colorate in stile liberty filtrano i raggi solari che strappano bagliori vermigli al divano circolare al centro della hall. Tappeti, tavoli ottocento dalle linee ricurve, divani incassati negli angoli, lampade sorrette da figure di donne entro pepli fluttuanti evocano ricordi di raffinatezza degli anni lontani.

Una perfetta simbiosi fra la storicità della costruzione e la più avanzata e sofisticata tecnologia alberghiera, fanno di Villa Politi un albergo leader nel settore.


Le Camere: L'albergo totalmente rinnovato nel 1998, dispone di 100 camere dislocate su tre piani comprese mansarda.
Suddivise in varie tipologie: standard, superior, de luxe, junior suite e senior suite, arredate tutte in stile e gestite da un moderno ed avanzato sistema intelligente con carta magnetica.
Gli ambienti tutti spaziosi e confortevoli, ricchi di una sobria eleganza, derivante in primo luogo dell'arredamento personalizzato e curato nei minimi particolari, con il logo della villa sui vetrage, sulle testiere dei letti nei coordinati tende e sopracoperte e nelle poltrone, dai bicchieri ai sottobicchieri agli apribottiglie ai tovaglioli e ai cestini porta carte.
I bagni delle camere, con vasca, doccia o vasca idromassaggio, sono impreziositi da top e specchiere in marmo, in varie sfumature, grigio, verde e rosa Portogallo.Dotate anche di un sistema di aspirazione aria silenziosissimo con valvola elettronica.
Rendono completo il confort delle camere le dotazioni impiantistiche su standard qualitativi elevati: climatizzazione, frigo bar, telefono diretto, asciugacapelli, stiracalzoni, cassaforte elettronica, tv satellitare, infissi con doppio vetro, porte camere fonoassorbenti per abbattimento dei rumori e room service.


Ristoranti: Nei due ristoranti "Salone Laudien" e "Primavera", si possono gustare a pranzo e a cena le delicatezze della cucina nazionale e piatti tipici regionali, il tutto servito con cortesia e professionalità.

Bar Winston: Cocktail e drinks si possono sorseggiare nella raffinata saletta del bar Winston al centro della hall.


Piscina e Solarium: Fiore all'occhiello dell'albergo, immerso nel verde è lo splendido solarium con piscina dotato di tutti i servizi: doccia, spogliatoio, toilettes, infermeria e bar attiguo, dove si possono consumare drinks e piatti freddi nella massima libertà, godendo allo stesso tempo del nostro sole siciliano.

Il solarium è anche attrezzato per organizzare eventi di tutti i tipi.


Meetings e Convegni:



Sala Convivia : Il centro congressi "Convivia" ha la capacità nel massimo confort, di accogliere fino a 250 posti all'interno di una sala perfettamente attrezzata con : welcome desk, guardaroba, servizi privati, angolo bar, veranda coperta e saletta annessa per 30 persone. La sala principale, con palco, podio e tavolo per relatori è fornita di attrezzature tecniche all'avanguardia ( centralina con microfoni senza fili, video proiettore, dia proiettore, schermi, lavagna luminosa ecc.). Con la sua sobria eleganza, ospita congressi, conferenze e meetings, che spesso hanno dato impulso e lustro alla realtà della nostra città e del nostro paese



Sala Latomie : La "Sala Latomie" accoglie fino a 180 persone ed offre varie possibilità per incontri sia d'affari che congressuali. Le attrezzature altamente sofisticate e l'efficiente assistenza tecnica, ne hanno fatto un importante punto di riferimento per meeting e congressi



Sala Churchill: La "Sala Churchill" con i suoi 60 posti è l'ideale luogo d'incontro per chi vuole dare al suo meeting un particolare tocco di charme. Il suo soffitto a vetri liberty, la boiserie d'epoca e il bow-window, luogo dove Winston Churchill soleva trascorrere i suoi pomeriggi durante il soggiorno a Villa Politi, daranno al vostro meeting una atmosfera unica



Sala Akradina: Internet Point



Salone Laudien: Il "Salone Laudien" accoglie fino a 300 persone ed offre varie possibilità per incontri sia d'affari che congressuali. Le attrezzature altamente sofisticate e l'efficiente assistenza tecnica, ne hanno fatto un importante punto di riferimento per meeting e congressi



Banchetti: Lo storico "Salone Laudien", con le sue maestose colonne, i suoi raffinati stucchi ed i suoi imponenti lampadari, possiede una lunga tradizione nell'ospitare banchetti nuziali.

In una cornice che richiama alla memoria le sontuose serate danzanti in cui donne e cavalieri volteggiavano a suon di valzer.

Oggi una cucina raffinata si coniuga con un servizio impeccabile all'insegna della qualità e dell'eleganza.





---
Dove siamo:


---
GRAND HOTEL VILLA POLITI



Situated in the incomparable setting of the ancient quarries known as the "Latomie dei Cappuccini" and set in the center of a spectacular natural amphitheater is the Grand Hotel Villa Politi.

The hotel is unique in the world because the ancient cliff upon which it rises is unique.

The hotel, with the recesses and extensions of its various parts, has three floors with mansards featuring magnificent windows that offer a fairytale view of the Mediterranean.

From the monumental wrought iron gate, through the lush park, to the facade with the grand helicoidal staircase besieged by bougainvilleas, to the monumental colonnade of the portico, to the characteristic bow-window, you enter the sumptuous hall with walls covered in precious wood. Shiny marble and enormous mirrors reflect the light and the L iberty stained glass windows filter the rays of the sun that shine bright red beams onto the round couch in the center of the hall. Carpets, curvy 19th-century tables, couches tucked into the corners, and lamps held up by figures of women in flowing peploses evoke memories of the refinement of a time long ago.

A perfect balance between the historical nature of the building and the most advanced and sophisticated hotel technology makes Villa Politi a leading hotel.


Rooms: The hotel, completely renovated in 1998, offers 100 rooms on three floors including mansards.
They are divided into various types: standard , superior , de luxe , junior suites and senior suites , all decorated in a classic style and equipped with an advanced magnetic card system.
The rooms are all spacious, comfortable and soberly elegant, thanks especially to the personalized furnishings that leave nothing to chance, with the villa's logo on the windows, the headboards of the beds, the matching drapes and bedspreads, the armchairs, the glasses and coasters, the bottle openers, the napkins and the wastepaper baskets.
The bathrooms, with bathtub, shower or jacuzzi, are embellished with marble counters and dressing tables in various colors such as gray, green and Portugal pink. They are also equipped with a very silent electronic valve fan system.
High quality equipment makes the comfort of the rooms complete: air-conditioning, mini-bar, direct telephone, hair dryer, trouser press, electronic safe, satellite TV, double-glazed windows, sound-absorbent doors to block noise and room service.


Restaurants: In the two restaurants "Laudien Hall " and "Primavera Hall" you can taste the delicacies of Italian cuisine and typical regional dishes for lunch and dinner, all served with courtesy and professionalism.

Winston Bar: Cocktails and drinks can be enjoyed in the refined room of the Winston Bar located in the center of the hall.


Pool and Solarium: Immersed in the green of lush foliage is the hotel's pride and joy, the splendid, fully equipped solarium and pool: shower, changing room, restrooms, infirmary and adjoining bar, where you can enjoy drinks and cold dishes at your leisure while basking in the Sicilian sun.

The solarium is also equipped to organize all types of events.


Meetings and Conventions:



Convivia Hall : The "Convivia" congress center can accommodate up to 250 people in maximum comfort in a room perfectly equipped with: welcome desk, coat room, private restrooms, bar, covered veranda and a small room for 30 people. The main room, with a stage, podium and table for speakers, is equipped with avantgarde technical equipment (network with wireless microphones, TV projector, slide projector, screens, overhead projector, etc.). With its sober elegance, it hosts congresses, conferences and meetings that have often given a boost and prestige to our city and country



Latomie Hall: The "Latomie Room" hosts up to 180 people and offers various possibilities for both business meetings and congresses. The highly sophisticated equipment and efficient technical assistance have made it an important point of reference for meetings and congresses



Sala Churchill: The "Churchill Room", with space for 60 people, is the ideal meeting point for those who want to give their meeting a special touch of charm. Its ceiling with Liberty windows, the period wood paneling and the bow-window, where Winston Churchill used to spend his afternoons during his stays at Villa Politi, will give your meeting a unique atmosphere



Akradina Hall: Internet Point



Laudien : The "Laudien Hall" hosts up to 300 people and offers various possibilities for both business meetings and congresses. The highly sophisticated equipment and efficient technical assistance have made it an important point of reference for meetings and congresses



Banquets: With its majestic columns, refined stucco work and impressive chandeliers, the historic "Laudien Hall" has been hosting wedding receptions for many years.

The setting brings to mind the sumptuous balls during which elegant men and women twirled to the sound of a waltz.

Today, a refined cuisine is united with impeccable service characterized by quality and elegance.




---
Where we are:

Grand Hotel Villa Politi
Via M. Politi, 2, Siracusa, SR, Italy