Hotel Sommeiller
Hotel Sommeiller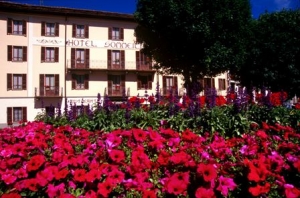 BOOKING FORM - RICHIESTA PRENOTAZIONE

---
Storico albergo di antica tradizione, situato nella splendida cornice della "Perla delle Alpi", l'Hotel Sommeiller offre un'atmosfera confortevole e familiare in grandi sale in stile liberty dove i ricordi si perdono nella memoria…..
L'Hotel Sommeiller è il più antico albergo di Bardonecchia e, da generazioni, la Famiglia Amprimo ne conduce l'attività con passione e professionalità, con uno sguardo al passato e una sfida verso il futuro.

La recente ristrutturazione ha rimodernato l'edificio rinnovando le camere e i locali comuni. Ampi spazi e sale ariose caratterizzano l'hotel: la luminosa hall color albicocca e il nuovo bar rosso mattone creano un ambiente caldo e accogliente.

L'hotel Sommeiller vanta inoltre "il ristorante", rinomato per l'ottima cucina, dai sapori antichi rivisitati per una clientela moderna. La grande sala in stile liberty è ideale per banchetti e cerimonie e si affaccia sul verde giardino, pittoresca cornice per cocktail e aperitivi.
L'hotel dispone di 30 camere con servizi privati, TV e telefono, per un totale di 97 posti letto.
Alcune camere si affacciano sulla grande Piazza Statuto con vista delle meravigliose montagne bardonecchiesi. Altre si affacciano sulla "corte", e beneficiano della tranquillità del cortile interno.
Servizi per disabili.
---
Dove siamo:
Distanze:

    * dal centro m 100
    * dalla zona sportiva m 1000
    * dalla stazione ferroviaria m 150
    * dalla fermata autobus trasporto pubblico m 100
    * dal centro congressi "Palazzo delle Feste" m 1000

---
Hotel Sommeiller is a historical hotel boasting a long tradition of hospitality. It is located in the beautiful setting of Bardonecchia, unsurprisingly known as the Pearl of the Alps, and offers a comfortable and homely environment in its Art Nouveau halls in which memories come flooding back.

Hotel Sommeiller is the most ancient hotel in Bardonecchia. The Amprimo family has run the hotel for generations in an enthusiastic and professional way and has always been proud of its past but also confident of its future at the same time.


The building has recently undergone renovation and rooms and common areas have been refurbished. The hotel features wide and airy spaces and the apricot coloured hall together with the new bar painted in brick red create a warm and welcoming atmosphere.


Hotel Sommeiller is proud of its restaurant which is renowned for its excellent cuisine reinterpreting traditional dishes with a modern approach. The large Art Nouveau dining hall is the ideal location for banquets and ceremonies and overlooks the green garden which can beautifully host cocktail and aperitif parties.

The hotel can accommodate up to 97 people and offers 30 rooms with ensuite bathroom, TV and telephone.
Some rooms overlook the large square of Piazza Statuto and enjoy panoramic views of the beautiful mountains surrounding Bardonecchia. Other rooms overlook the courtyard and offer peace and quiet.

Disabled facilities. .
---
Where we are: