Hotel Ristorante Vittoria
Hotel Ristorante Vittoria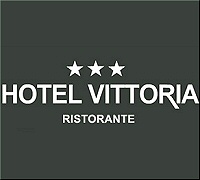 BOOKING FORM - RICHIESTA PRENOTAZIONE

---
HOTEL RISTORANTE VITTORIA


Camere: L'hotel Vittoria è dotato di 28 accoglienti camere.
Dotate di tutti i confort, rappresentano il posto ideale dove riposarsi dopo aver camminato in lungo e in largo per la città antica.
Pregiate rifiniture e un servizio discreto ma puntuale ed efficiente completano in maniera essenziale la vostra permanenza.


Ristorante: L'Hotel Vittoria è dottato di quattro slaoni ristorante capaci di offrire un'ospitalità di 700 posti.
Mentre all'esterno c'è un accogliente giardino con oltre 150 posti. La cucina è di stampo internazionale con attenzione ai sapori tipici della Campania felix. Uno staff altamente qualificato renderà piacevole il vostro desinare all'imbra degli scavi.


Self Service: L'Hotel Vittoria è dotato di un efficiente self-service con un'ampia sala disponibile ed accogliente si pososno gustare i piatti tipici mediterranei.


Coffe Shop: Nella splendida piazza Esedra potrete trovare il nostro coffee shop, dove gustare il classico espresso napoletano, stando seduti con lo sguardo sull'immenso patrimonio archeologico di Pompei.





---
Dove siamo:


---
VITTORIA HOTEL RESTAURANT


Rooms: The Hotel Vittoria has got 28 rooms.
Provided with all comforts, they are the ideal place where you can have a rest after having walked far and wide around the ancient town.
Precious fittings and an accurate and efficient srevice, also carried out with kind discretion, make your stay even more pleasant.


Restaurant: In the Hotel Vittoria, the big restaurant room have a capacity of 700 seats.
The cuisine is of international kind and pays attention to the typical tastes of Campania Felix.


Self Service: The Hotel Vittoria is provided with an efficient self-service with a large room where you can taste the Mediterranean typical dishes.


Coffe Shop: On the splendid Esedra square you can find our coffee- shop, where you can taste the famous Neapolitan Espresso while sitting at a table and looking at the ruins of the immense archaeological heritage of Pompei.





---
Where we are: