Hotel Arabel
Hotel Arabel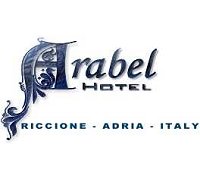 BOOKING FORM - RICHIESTA PRENOTAZIONE

---
HOTEL ARABEL

Le vacanze che stavi cercando Sole, Mare, Sport e tanto Divertimento.
Con la spiaggia a pochi passi respiri l'aria frizzante del mare adriatico e con una breve e gradevole passeggiata ti ritrovi tra le mille luci di Viale Ceccarini nel centro di Riccione ....
L'atmosfera cordiale e serena Ŕ quella tipica della Riviera Romagnola, la gestione familiare garantisce un servizio premuroso che ha come parola d'ordine la cortesia ! E sei tu il centro di tutte le attenzioni!
Un piccolo Hotel che non ti fa rinuciare ai Grandi servizi sia in camera che in albergo, parco acquatico, palestra ecc !!! e NON dimenticare che la Tua AUTO ha giÓ un posto assicurato nel nostro parcheggio privato o se vuoi al coperto nel garage sotterraneo dell'hotel.

Cucina: Al Mattino inizierai la giornata scegliendo tra le tante golositÓ offerte dalle nostre abbondanti colazioni: Salumi, brioches, cornetti, toast....... e tutta l'energia della frutta ! A pranzo e cena sarai viziato dalla nostra cucina in un crescendo di gusto e sapori nei due ricchi men¨ a scelta di carne o pesce, accompagnati da invitanti buffet di verdure. Potrai apprezzare i piatti tipici della prelibata gastronomia locale o le raffinatezze internazionali e infine allietare il tuo palato con le dolci proposte per il dessert!

Ristorante: Una fresca Sala Ristorante climatizzata dove potrai gustare i piatti preparati dal nostro Chef, essere servito con simpatia e gentilezza e ritrovarti in una ambiente familiare.

Soggiorno: Un elegante e spazioso soggiorno climatizzato con una saletta TV, Satellite, Video - per non rimpiangere le comoditÓ di casa tua.

Camere: Camere curate e dotate di tutti i confort - dal balcone al bagno ben arredato - mentre non mancherÓ la televisione con ricezione satellite Un dolce riposo per delle splendide vacanze.

Piscina: GRATIS PER I NOSTRI CLIENTI: Beach Planet a 200 mt dall'hotel, direttamente sulla spiaggia Ŕ un attrezzato e divertente parco acquatico pensato per il divertimento di tutta la famiglia con la sua piscina semiolimpionica lunga 25 metri, con gli ombrelloni e i lettini prendisole, gli acquascivoli Kamikaze (altezza 12 m.) e Toboga (10 m.), la piscina e gli scivoli per bambini nel Baby Corner Hydrovolley, l' animazione per grandi e piccoli con giochi e divertenti lezioni di ginnastica, acquagym e nuoto con istruttrici ed istruttori brevettati.

Palestra: Rimani in forma anche durante le Tue ferie per tutti i nostri clienti l'ingresso e l'uso completamente " GRATUITO " della palestra professionale Aerobic Studio's a soli 150 mt dal nostro hotel.

---
Dove siamo:


---
ARABEL HOTEL

The holidays you wanted to find Sun, Sea, Sport and much fun.
With the beach at a few steps you breath the fresh air of the Adriatic sea and by a short and nice walk you are under the thousand lights of Viale Ceccarini in the centre of Riccione ! !
The cordial and serene atmosphere is typical of the Romagna coast, the family management assure a solicitous service which watchword is the kindness ! And you are in the middle of all attentions !
One of the best quality and price relation between the Hotels of Riccione. Decover the services of this Hotel, you are surely surprised by the quality and price relation.
Don't forget that your car have an assured place in our private parking or if you prefer you can book a place in the underground garage of the hotel, only for you.

Gourmet: You start the morning by choosing between many greediness of our riche breakfasts : salt porks, briches, toasts, sweetmeats and all the energy of the fruit ! For lunch and dinner you are spoilt by our kitchen with pleasant tastes and good flavours of the two menus, meat or fish (by choice), joined with a riche buffet of vegetables.
You can appreciate the typical dishes of the excellent local gastronomy or the international refinements and finally cheer up your palate by sweetmeats of our fantastic desserts !

Restaurant: A fresh restaurant hall with air conditioning where you can appreciate many dishes which our chef prepare for you, you are waited with sympathy and kindness and you feel at home.

Hall: An elegant and big dayroom with air conditioning and a little hall with TV, Satellit, Video- in order to have the same cosiness as at home.

Rooms: Clean rooms with all the confort - balcony and beautiful bathroom - you have also TV with satellit Sweet moments for a splendid holiday you don't forget.

Swimming Pool: The holidays you wanted to find, Swimmingpools, Waterslidings, an Acquafan directly in front of the Sea. All this for you, guests of the Hotel Arabel Riccione With the free admission totally GRATIS ! !Swimmingpools, Waterslidings, Animation, the Bikini bar for little snacks near the swimmingpool, the californian disco pub, the jokes and the miniclub, the sailing school, windsurf and catamaran, Watergym and Aerobic in the swimmingpool, the waterskiing and the funny banana boat and the canoes, the fields for beach volley and beach soccer, skating in the "BEACH PLANET" is surely the colour of the fun and your SUMMER".

Fitness: Gymnasium Fitness Tecnogym Be in good form also during your holidays in Riccione Hotel Arabel gives you a professional gymnasium with Tecnogym equipments for not renouncing to be fit also during your holidays. Aerobic Studios of Riccione, only 100 m from our Hotel. Absolute FREE ! !
---
Where we are:

Hotel Arabel
Via Tasso, 187, Riccione, RN, Italy